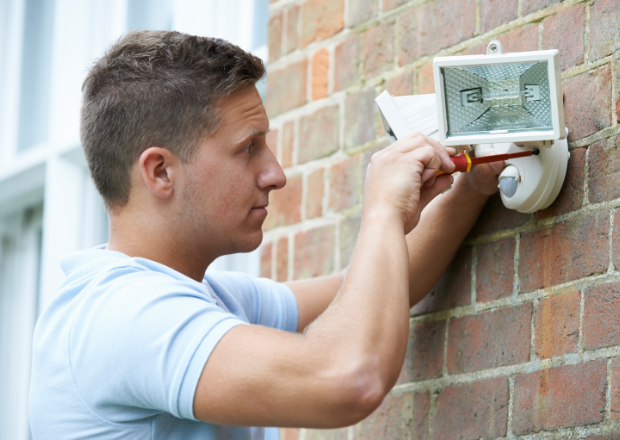 What is Lighting Automation?
When you think of lighting automation, what comes to mind? Is it something only for businesses? Do you think it's too expensive or complex for the average homeowner? 
In this blog post, Revamped Security will break down what lighting automation is, who it is for, and the benefits users gain when adopting it. 
What Is Lighting Automation?
Lighting automation is the automatic control of lighting using sensors, switches, and timers. The goal of lighting automation is to create an optimal lighting environment for the given space, whether it is for a home, office, or public area. Lighting automation can be used to adjust the light level, color, and even the direction of the light and create special effects. It is no surprise that homeowners all over the country are quickly adopting this revolutionary way to control their home's lighting.
Who Can Use Lighting Automation?
Just about anyone can benefit from smart lighting! Homeowners can use lighting automation to essentially remote control the lights on and off based on schedule or sensors. This can save money on energy bills and help to deter burglars. 
Business owners can also use lighting automation to create the perfect ambiance for their customers, employees, and products. Lighting automation is a valuable addition in public spaces, such as parks and plazas, to create a safe and inviting environment. Ultimately, lighting automation is a versatile tool used in various settings to achieve different goals. 
Benefits of Lighting Automation
Lighting automation is becoming increasingly popular as it offers many advantages over traditional lighting methods. Light automation has many benefits, including energy savings, improved safety, security, the ability to control multiple lights, and increased comfort. Below are some of our customer's favorite features from their automatic lighting system from Revamped Security.
Improved Energy Efficiency
Lighting automation can be used in residential and commercial settings to improve energy efficiency. For example, occupancy sensors can automatically turn lights off when a room is empty, and timers can be used to ensure that lights are only on when they are needed. 
Lighting automation can help businesses save money on their energy bills by reducing the time that lights are left on unnecessarily, and the same goes for savings in the home.
Many people don't realize the benefits that lighting automation can bring to their homes. You can also set your lights to dim automatically when you leave the room, helping save you significant energy. You can save energy by automatically turning lights off when not needed and adjusting light levels to match the natural lighting outside. This can help to reduce your electric bill and your carbon footprint. 
Enhanced Safety
In addition to saving energy, lighting automation can help improve your home or building's all-around security system. Lighting automation can also help to increase security by deterring intruders and providing lighting at critical points around the exterior of a building, as well as giving a well-lit environment for employees or customers. 
With a lighting control system, you can program your lights to turn on and off at specific times. This means you'll never have to worry about returning to a dark house again. In addition, lighting automation can deter burglars by making it appear as though someone is home even when they're not. These systems also increase safety by automatically turning on lights when someone enters a room or area, so you and your loved ones always have ample light when needed.
Better Comfort
The use of lighting automation can increase comfort by creating a more natural lighting environment that can help people feel more relaxed. Lighting automation provides many comfortable lighting options to improve your lighting and home automation experience. 
With automated lighting controls, you can control the level of light in a room, the color, and even the direction of light. You can also create lighting scenes that adjust the lighting in a room to match your mood or activity, even your exterior lighting can be adjusted. For example, you can create a setting that dims the lights and changes the color temperature to a warm yellow when you want to relax in your living room. Or, you can create a scene that brightens the lights and changes the color temperature to a cool white when you want to work in your home office.
Why Choose Revamped Security?
When dealing with something as important as the security and comfort of your home, ensure you work with a team you can trust. As an ADT Authorized Dealer, we only carry the highest quality home automation system products, with backing from ADT. 
Please take advantage of our partnership with ADT by utilizing the ADT Control app and 24/7 monitoring. You can rest easy at night knowing that you are being watched under the careful eye of the country's most trusted security brand
Explore Lighting Automation Systems with the Pros
Lighting automation is a great way to improve your home security, comfort, and energy efficiency. 
If you're interested in learning more about how it can benefit you, contact Revamped Security today. We would be happy to schedule a consultation and answer any questions you have about this exciting new technology.